LIMITED TIME OFFER! FREE SHIPPING USA WITH CODE: FREE200
Orders above $200. Contiguous USA. Other terms apply.
FOLD UP FOR FREEDOM
UNFOLD FOR FUN.



NO STORAGE... NO ROOF-RACK
The SOLID Hard-Shell Kayak that folds up to
Store ANYWHERE and sets up in MINUTES!


QUICK & EASY SET-UP • NO TOOLS REQUIRED
• ONLY 6 QUICK CLAMPS


PERFORMS LIKE A REAL
HARD-SHELL KAYAK • IT'S SUPER STABLE
(EVEN FOR BEGINNERS)
• TRACKS STRAIGHT
• LIGHTWEIGHT & MANEUVERABLE

BUILT TO TAKE A BEATING
• RATED FOR 1000's OF FOLDS
• WILL NOT CRACK OR PUNCTURE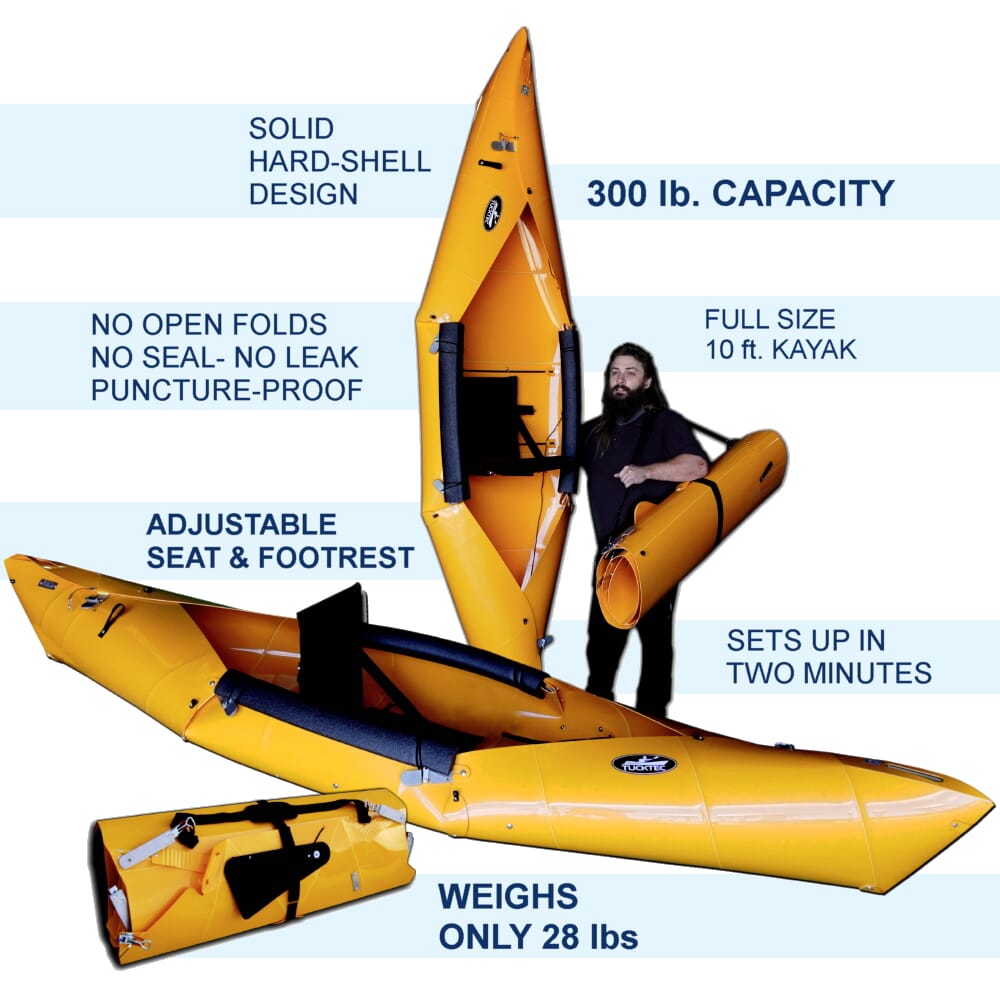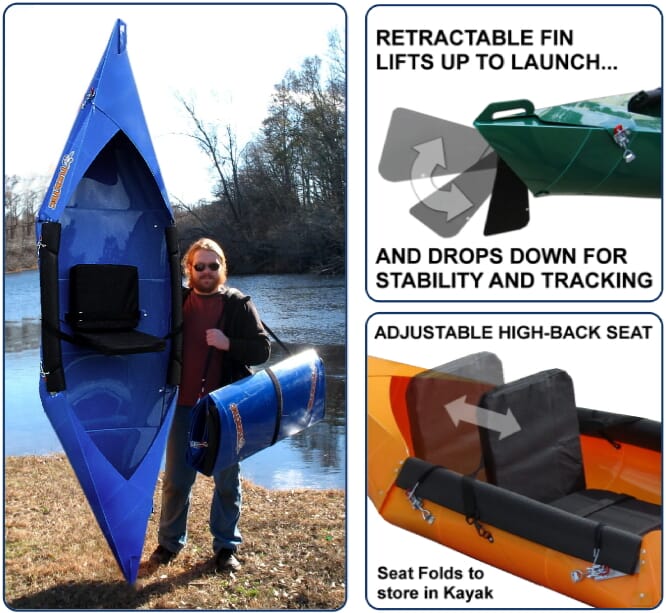 TUCKTEC FOLDING KAYAK COLOR VARIANTS
Q: HOW MUCH DOES IT WEIGH FOLDED UP?
A: 28 pounds (12.7 kg).

Q: WHAT IS THE CAPACITY?
A: 300 pounds of distributed weight. The recommended maximum single passenger weight is 250 - 280lbs (113-136 kg).

Q: WHAT IS THE LENGTH & WIDTH ASSEMBLED?
A: The length is 9 feet 8 inches (295 cm). It's 31 inches wide (78 cm).

Q: DO THE FOLDS WEAR OUT?
A: The material has been formulated to last for thousands of folds. All fold lines are reinforced.

Q: IS IT SOME SORT OF FABRIC?
A: No. It's a solid 1/8 inch thick plastic sheet. In fact, when assembled it feels and performs just like a standard hard-shell kayak.

Q: WHAT HAPPENS IF IT HITS ROCKS?
A: The Tucktec Folding Kayak can take the same abuse as a standard hard-shell kayak.

Q: HOW LONG DOES IT REALLY TAKE TO ASSEMBLE?
A: The first couple times may take you 15 minutes, but after that anyone can get it down to 2 minutes or less.

Q: CAN I TAKE A CHILD OR DOG WITH ME IN IT?
A: Ton's of folks take kids and pets along. Just be sure they sit still!
Q: WHAT KIND OF WATER ARE THEY GOOD ON?
A: Perfect for Flat-Water. Lakes, ponds, Bays, and Inlets. They are good on rivers and creeks up to class 2. They are not recommended for whitewater, beach waves, or very heavy chop.

Q: DOES IT COME WITH THE SEAT?
A: Yes. The adjustable seat is included.

Q: DOES IT COME WITH A PADDLE?
A: The basic kayak package does not include a paddle.

Q: HOW DO YOU KEEP IT FROM LEAKING?
A: There are NO open seam below the top level of the kayak. Each fold is a "Z" pattern that folds in and on it's self. There is nothing to seal. It's all one single flat sheet.


AVAILABLE IN MANY COLORS


Let customers speak for us